Altar & Rosary Society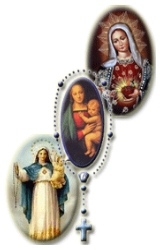 The Altar & Rosary Society has been an integral part of St. Andrew's Parish for generations. The women are active members of the Parish Community and have served St. Andrew's whenever their assistance was requested.


Officers
President:
Kelli Ritz
Vice President:
Olla Assid
Treasurer:
Jane Jenkins
Secretary:
Karen Williams
Correspondence Secretary:
Janet Hunneyman










The St. Andrew's Altar & Rosary Society finances their activities through hosting senior dinners, hot dog sales, bake sales and donations.

The good works of the Altar & Rosary Society include:
Weekly cleaning and arrangement of the church
Purchase all necessary cleaning supplies
Support the food pantry
Assist the Knights of Columbus with special Parish functions
Support Ecumenical dinners
Host bereavement receptions
Lead the Rosary during the months of May and October prior to Mass
Attend calling hours for parishioners
The Altar & Rosary Society are women of prayer and good works. They are steadfast in keeping our Parish functioning. In addition, their contributions are many: Catholic Charities, Bishop's Fund, annual Christmas gift for retired priests, Unbound, Camp Guggenheim, Jubilee Shop and additional donations as determined.
Meetings are the third Sunday of each month at 10:00 AM in the Parish Center. New members are always welcome.
Please send correspondence to:
St. Andrew A & R Society
PO Box 555
Sackets Harbor NY 13685
or e-mail us at standrewar555@gmail.com.
---
Saint Andrew's Church


Corner of East Main and Woosley Streets
Sackets Harbor NY
Phone: (315)782-1143
Fax: (315)782-0231
Email: icses@twcny.rr.com
---
Secretary
Tina Froedtert
---
Saturday Masses
4:00 PM - SA, Sackets Harbor
5:30 PM - IC, Brownville

---
Sunday Masses
8:30 AM & 10:00 AM
IC - Brownville
-
11:30 AM - SA, Sackets Harbor

---
Daily Masses
9:00 AM on M, W and F
IC - Brownville
-
9:00 AM on T and Th
SA - Sackets Harbor
---
Reconciliation
Saturdays at 3:30 - 4:00 PM
SA - Sackets Harbor
-
Saturdays at 5:00 - 5:30 PM
IC - Brownville