Faith Formation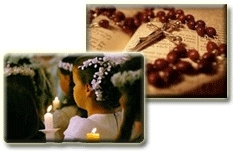 Our Faith Formation program is available to all students in our Parish in Grades 1 - 9.
Registration Forms:
Forms have been sent out to all students who attended last year's classes.
Grades 1 - 3 Permission Slip to Walk:
Please complete and submit the Permission Slip to Walk form. Please remember that you need to write a note to your student's teacher EVERY MONDAY that you want your child to attend our program. This helps the school, teachers, and students (especially the little ones) remember what they are supposed to do that day.
Grades 1-3 Program:
Meeting Times and Days:
Classes for Grades 1 - 3 are held during the school year on Mondays from 2:30 p.m. to 3:45 p.m. at the Parish Hall according to the following schedule. There is a $20.00 registration fee for each child.
Grades 4-9 Program:



Classes will be held at the Parish Hall on select Sundays during the school year from 10:00 a.m. - 11:15 a.m. There is a $20.00 registration fee for each child.


2017-'18 Class Schedule for Grades 4-9
Contact Information:
If you are new to our area or would like more information on our programs, please call

Mrs. Tina Corey

, Director of Faith Formation, at 788-7240.
---
Saint Andrew's Church


Corner of East Main and Woosley Streets
Sackets Harbor NY
Phone: (315)782-1143
Fax: (315)782-0231
Email: icses@twcny.rr.com
---
Secretary
Tina Froedtert
---
Saturday Masses
4:00 PM - SA, Sackets Harbor
5:30 PM - IC, Brownville

---
Sunday Masses
8:30 AM & 10:00 AM
IC - Brownville
-
11:30 AM - SA, Sackets Harbor

---
Daily Masses
9:00 AM on M, W and F
IC - Brownville
-
9:00 AM on T and Th
SA - Sackets Harbor
---
Reconciliation
Saturdays at 3:30 - 4:00 PM
SA - Sackets Harbor
-
Saturdays at 5:00 - 5:30 PM
IC - Brownville